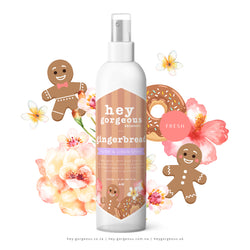 Hey Gorgeous
Gingerbread Room & Linen Spray
Why Use Me?
This gorgeous light room and linen spray is perfect for freshening up your winter wardrobe, sheets and towels that have been in the cabinet for a while, or just to enjoy in your bedroom or bathroom. Scented with Vanilla, Ginger and a hint of Cinnamon, this fabulous room and linen spray smells like freshly baked cookies. Impossible to resist! Great if you'd like to have a little scent, but have allergy issues with most room sprays.
This product can also be added to your regular ironing water to give an amazing scent to your ironing.
Made With:
Distilled Water and Essential Oils.
Size:
250mls.
How To Use It:
Shake gently before use. Take care to spray at least 20cm from fabrics to avoid water spots or stains. This is a clear spray, and does not stain – but again, take care, especially on fabrics that are prone to water spots, such as silk.
"I use this in my car all the time, especially after I take the dogs for a walk to get rid of the doggy smell. It smells amazing!"
- Gerda Pretorius, George.