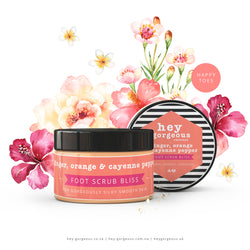 Hey Gorgeous
Ginger, Orange & Cayenne Pepper Foot Scrub Bliss
Why Use Me?
It's all too easy to neglect your feet in winter. Not only does our Ginger Orange and Cayenne Foot scrub polish off rough, dry skin leaving them soft, silky smooth and moisturised, but it stimulates circulation, increasing blood flow so if you suffer from cold feet, this fabulous scrub is the perfect solution.
Made With:
Sugar, Ginger, Cayenne Pepper Extract, Orange Zest,  Grape Seed Oil, Olive Oil, Apricot Kernel, Macadamia Nut, Avocado oil and other Essential Oils.
Size:
200g.
Why It Works:
This wonderfully aromatic scrub exfoliates the skin. Ginger and Cayenne Pepper stimulate circulation and increases blood flow. Orange Essential Oil is shown to promote the production of collagen as well as increase the blood flow to the skin. It is helpful at soothing dry, irritated skin as well as acne-prone skin. It is excellent for rubbing on calluses on the feet.
How To Use It:
Soak tired feet in warm water. Scoop a handful of this delicious scrub and generously rub on your feet, focusing on the balls and heels. Rinse, dry, go dancing!
"What I love about this footscrub besides the amazing smell is that it left my feet feeling fresh and energised."
-  Moira Basson, Mooi River.
We Recommend:
Also try:
Peppermint Foot Scrub Bliss
Complement With:
Vanilla Whipped Mousse or Body Butter
Coconut Body Soufflé