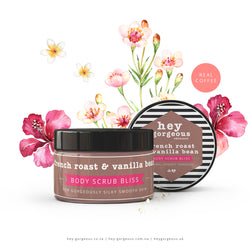 Hey Gorgeous
French Roast & Vanilla Bean Salt Body Scrub
Why Use Me?
Keep calm and cover yourself in coffee :) 
Made With:
Beautifully blended with Essential Oils, Grape Seed, Jojoba and Sweet Oil, Khoisan and Epsom salts, this fabulous scrub will leave your body and legs incredibly soft and smooth.
Size:
200g.
How To Use It:
The best way to use this scrub is to apply a spoonful into the palm of your hand. Rub palms together and then apply to the skin in upward sweeping movements. Rinse off. Pat dry. 
"The French Roast & Vanilla Bean Salt Scrub leaves my skin looking so smooth it makes me want to use it every day. (The caffeine from the coffee has a lot of benefits when applied to the skin, such as decreasing the formation of cellulite and reducing varicose veins."
We Recommend:
Also try:
Strawberry & Black Pepper Body Scrub Bliss

Complement With:
Choconut Body Butter
Vanilla Mousse