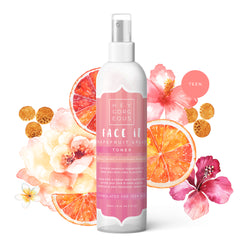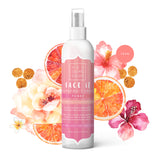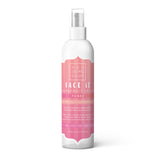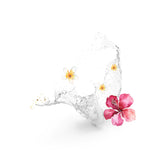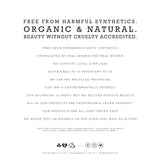 Hey Gorgeous
Face It Grapefruit Splash Toner
REBALANCING TONER -SUITABLE FOR ALL SKIN TYPES AND IDEAL FOR TWEEN  & TEEN SKINS.
Keeping skin clean is the primary step to skin health and using our Grapefruit Splash toner for its antiseptic and antibacterial properties, will clean and clear congested skin. 
WHY WE LOVE IT:
This light, refreshing, alcohol-free toner is very kind on the skin, even the most sensitive. Packed with anti-oxidants, anti-bacterial and anti-microbial properties, it helps to stabilise the skin's pH balance, keeps pores clean and leaves skin feeling fresh and revitalised.
RESULTS:
anti-oxidant rich
packed with anti-bacterial/microbial properties to reduce the occurrence of breakouts
de-congests pores reducing black/whiteheads
tones and refreshes the skin.
SUPERFOODS: 
Aloe Grapefruit
INGREDIENTS:
*Grapefruit hydrosol. *Aloe infused distillate. *Vegetable Glycerine *Citric Acid *Essential oils of Grapefruit, Orange and Chamomile.
This product does not require refrigeration. To extend the potency and preserve the fresh ingredients store in a cool room away from direct sunlight.
APPLICATION TIPS: 
Spray onto a damp cotton wool pad and wipe over the skin after cleansing. Then close eyes and spray a light mist onto the skin - allow to air dry before following with your serum or moisturiser. For accelerated results use with our Strawberry Enzyme Cleanser. Use mornings and evenings.
 SIZE: 250ML 
Please note:
All of our natural & organic products are lovingly made by hand. This means that occasionally you may notice slight colour variances when comparing to our product pictures.
Our PET recycled packaging may differ to what is displayed here, depending on our suppliers, but sizes will always remain constant.
Finally, we're improving on our labels! Our website is up to date with the latest ingredient lists, but please note that our labels are a work in progress. If you're uncertain, please don't hesitate to get in contact.