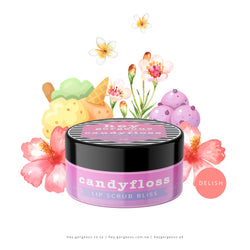 Hey Gorgeous
Candyfloss Lip Scrub
Why Use Me?
You never know when you might have to pucker up so best to keep your lips soft, smooth and totally smoochable.
Made With:
Oh so delicious Caramelized Sugar, Coconut Oil, Jojoba & Essential Oils.
Size:
100g.
Why It Works:
Our yummilicious lip scrub will polish off rough dry skin, whilst the oils moisturise and soften your lips leaving them flake free, soft and kiss ready.
How To Use It:
Gently massage a very small amount (about the size of half a pea) into your upper and lower lips using circular motions for about one minute. Feel free to lick off any excess ;]
"Your Lip Scrubs are AWESOME! My lips feel so soft and don't dry out like they did before!"
- Marlene Rautenbach, Durbanville.
We Recommend:
Complement With:
Honey, Papaya & Pomegranate Facial Scrub
Cherry Crush Lip Balm