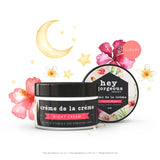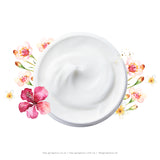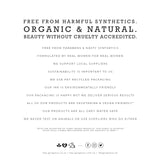 Hey Gorgeous
Creme De La Creme Olive & Vitamin E Night Cream
REPLENISHING RESTORATIVE NIGHT CREAM THAT DELIVERS INTENSIVE HYDRATION
Creme De La Creme Is a luxurious, rich and nourishing anti-ageing facial night cream formulated to accelerate cellular turnover, feed epidermal cells, restore elasticity, and plump up and soften wrinkles. Packed with organic ingredients known for their incredible cell regenerating properties, this lovely night cream nourishes, hydrates heals and promotes healthy skin renewal. Ideal for normal to dry skin types that are showing signs of ageing and skins that need a little extra TLC.
Why We Love It:
Blended into a luxuriously rich cream, when applied just before bedtime, it provides a powerful boost of nutrients at the peak of your skin's renewal process which is when you are asleep. Your skin will look and feel refreshed and revitalised when you awake.
Results:
Increases cellular turnover

Increases suppleness

Reduces inflammation

Diminishes signs of ageing

Comforts skin and rejuvenates
Superfoods:
Resveratrol, Organic Coconut Oil, Jojoba
INGREDIENTS: 
*Shea Butter, *Jojoba, *Organic Coconut Oil, *Sweet Almond Oil, *Vitamin E, *Olive Oil, *Evening Primrose, *Blueberry Extract (Resveratrol) Lavender, Chamomile. 
This product does not require refrigeration. To extend the potency and preserve the fresh ingredients store in a cool room away from direct sunlight.
Size:100g.
APPLICATION TIPS:
Apply before bedtime on cleansed skin, ideally after your serum for best results.
Please note:
All of our natural & organic products are lovingly made by hand. This means that occasionally you may notice slight colour variances when comparing to our product pictures.
Our PET recycled packaging may differ to what is displayed here, depending on our suppliers, but sizes will always remain constant.
Finally, we're improving on our labels! Our website is up to date with the latest ingredient lists, but please note that our labels are a work in progress. If you're uncertain, please don't hesitate to get in contact.