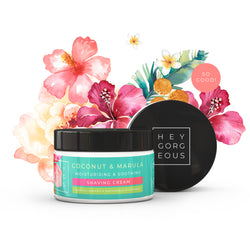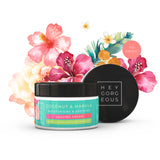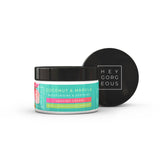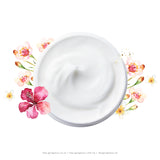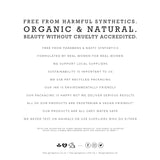 Hey Gorgeous
Coconut & Marula Shaving Cream
SUITABLE FOR ALL SKIN TYPES PARTICULARLY DRY, ECZEMA PRONE & SENSITIVE SKINS
RESULTS:
Ultra moisturising to hydrate and nourish dry, itchy, cracked skin.

Luxurious silky soft touch finish

Healing blend of nourishing oils and butters

Organic Coconut Oil, Jojoba and raw shea butter

Coconut Water Base

Raw & organic ingredients

Perfect for all skin types and all skin ages. 
WHY WE LOVE IT:
Coconut Oil, or rather the medium chain fatty acids within, possess antibacterial, anti-fungal and antiviral properties. This means extra protection against the microbes responsible for unwanted skin conditions such as eczema and psoriasis. As Coconut Oil doesn't change skin PH, it won't irritate your skin, making it great for those who are allergic to products with fragrances and dyes, as well as those who suffer red and itchy skin post-shaving.
INGREDIENTS
:
*Coconut Water, *Shea Butter, Liquid Castile *Virgin Coconut Oil *Jojoba Oil, Cetearyl Olivate and Sorbitan Olivate (Olive Oil Emulsifier) *Arrowroot 
How To Use It:
Apply to wet skin and shave as normal. Rinse & pat dry.
Please note:
All of our natural & organic products are lovingly made by hand. This means that occasionally you may notice slight colour variances when comparing to our product pictures.
Our PET recycled packaging may differ to what is displayed here, depending on our suppliers, but sizes will always remain constant.
Finally, we're improving on our formulas! Our website is up to date with the latest ingredient lists, but please note that our labels are a work in progress. If you're uncertain, please don't hesitate to get in contact.