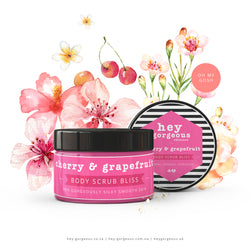 Hey Gorgeous
Cherry & Grapefruit Body Scrub Bliss
SMOOTHES, SOFTENS AND NOURISHES - Suitable for all skin types especially dry thirsty skin. 
If you're getting the recommended eight hours of sleep per night and eating well and you still aren't seeing a youthful glow to your skin, exfoliation may be the missing piece of your regimen. Exfoliation removes dead skin cells and helps to smooth your skin. 
WHY WE LOVE IT:
Not only does our Grapefruit & Cherry Body scrub smell amazing but it is so good for your skin. Apart from polishing off old skin cells and rough dry skin patches, the gorgeous oils & shea butter penetrate into the skin leaving it soft and supple. Grapefruit extract stimulates micro-circulation which in turn breaks down cellulite and tones/firms the skin. The wonderful smell of fresh cherries and grapefruit instantly lift your mood.
Superfoods:  Jojoba Peach Kernel Oil Shea Butter
INGREDIENTS: *Sugar, *Organic Peach Kernel and Jojoba Oils, *Grapeseed Oil  *Shea Butter* Coconut Flour *Grapefruit and Cherry Essential Oils.
SIZE: 200g.
RECOMMENDED APPLICATION:
Apply to a sponge or face cloth and then onto damp skin in upward sweeping motions. Rinse off and for best results follow with our Pear and Pomegranate Body Mousse