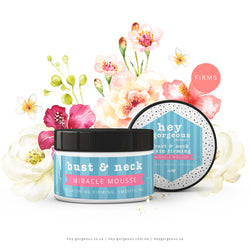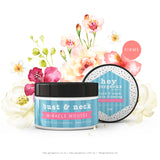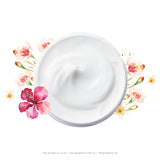 Hey Gorgeous
Bust & Neck Miracle Firming Mousse
Why Use Me?
This gorgeous firming mousse has been formulated to plump and smooth fine lines and crepeness, combats loss of elasticity and dehydration and even skin tone and texture. It helps promote the appearance of firmness and resiliency. It works well to restore elasticity, support skin's firmness and resilience while relieving its appearance of crepeness. It has a beautifully light texture that glides on effortlessly and absorbs with minimal blending to avoid stretching. 
Made With:
Shea, Coconut Oil, Rosehip Seed Oil, Pomegranate Seed Oil, Moringa Oil, Vitamin E,  Vitamin A, Grapefruit Seed, Cypress &, Sandalwood  Essential Oils.
Size:
200g.
How To Use It:
After cleansing, apply each night to the neck, décolletage and bust area Use gentle upward movements of the fingertips.  Recommended for all those with dry skin and and from 25, when the collagen starts to deplete.
"I am very impressed with your Bust and Neck Firming Mousse. From the first application my skin felt wonderfully hydrated and supple. Now, after just a few weeks, the crepeness that I noticed starting on my chest area has completely gone!"
- Angela Matthews, Kirstenhof.
We Recommend:
Also try:
Miracle Skin Firming Mousse
Complement With:
Skin Conditioning Serum
Super Magical Stretch Mark Oil