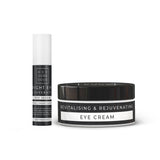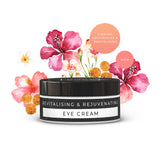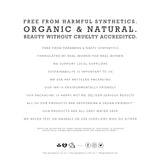 Hey Gorgeous
Bright Eyes Eye Cream & Serum Gift Set
Why use me?
Bright Eyes is a fabulous little duo comprising of our Revitalising Eye Cream which is formulated with soothing Aloe, seaweed  & Pro-Vitamin B5 and is an innovative eye treatment created to instantly tighten and smooth fine lines and wrinkles.
AND Bright Eyes, a wonderfully refreshing eye serum which is great to pop in your handbag for convenient use whenever your eyes feel tired and your skin needs a little pick me up during the day.  
With a roller ball application, this fab serum is easy to apply and convenient to pop into your bag, ready for use whenever you need. 
Why it works:
It repairs connective tissue, promotes cellular renewal, increases elasticity, enhances the formation of collagen, and fortifies the delicate under eye area and surrounding tissue, utilising superior bio-active and naturally sourced ingredients that provide immediate visible results while promoting the strengthening, repair and plumpness of the eye area over time.

The added benefit from Licorice Root, Evening Primrose, Arnica, Pumpkin & Cranberry establish the lightening of pigmented spots and dark under eye circles and reduce under eye puffiness & inflammation while imparting essential nutrients to enhance the effects of the cellular regeneration process.
Ingredients:
Revitalising Eye Crea: Aloe Gel, Apricot Oil, Pumpkin Seed Oil, Cranberry Oil, Sea Kelp Extract, Jojoba, Licquorice Root, Evening Primrose, Arnica & Vit E & K.
Bright Eyes Serum; Vitamin C infused distillate, Aloe gel sea kelp extract, hyaluronic acid. 
Size: 

50ml & 10ml
Best way to apply:
Cream: Dot small amounts around the eye socket bone. The molecular structure of this cream allows it to travel where it is needed. Massage lightly into the skin. Allow to absorb. For best results apply mornings and evenings. 
Serum; Give the bottle a gentle shake. Roll around the eye area. Tap into the skin with your finger. Allow to absorb. Can be applied over make-up. 
Please note:
All of our natural & organic products are lovingly made by hand. This means that occasionally you may notice slight colour variances when comparing to our product pictures.
Our PET recycled packaging may differ to what is displayed here, depending on our suppliers, but sizes will always remain constant.
Finally, we're improving on our formulas! Our website is up to date with the latest ingredient lists, but please note that our labels are a work in progress. If you're uncertain, please don't hesitate to get in contact.