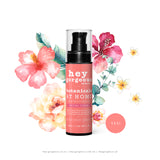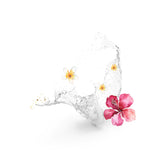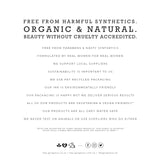 Hey Gorgeous
Botanicals At Home Facial Steamer
Why Use Me?
Steaming causes the skin to perspire, allowing pores to open up, breathe and eliminate impurities, oil, pollutants and environmental toxins which can easily clog the pores and lead to breakouts, blackheads and other imperfections. Massage a little of our Gorgeous Botanicals Facial Steam Oil on your skin before steaming to deeply cleanse as the steam penetrates the skin's layers, leaving your skin renewed, refreshed, hydrated. Your skin will then be better able to absorb the nutrients from the rest of your holistic daily skin care regimen, such as your serum and moisturiser. Lovely stuff!
Made With:
Rose Absolute, Geraniums, Chamomile, Lavender, Rosemary, Rosehip, Witch-hazel & Essential Oils.
Size:
30mls.
Why It Works:
Steam also revives and improves circulation, bringing increased oxygen and nutrition to tired, malnourished skin. Sensitive skin users may find steaming in this manner to be their most effective and least reactionary method of cleansing.
How To Use It:
Prepare a steaming bowl of water and bath towel. Begin with freshly clean skin and apply a thin layer of oils to entire face & upper neck area, massaging in small circles. Drape towel behind your head to create a tent and hover over the bowl of hot water, find a comfortable distance from the heat, relax & breath deeply for 5-10 minutes.
Poke your head out for air or adjust your distance from the heat, as needed. When you've finished steaming, gently wipe away oils with a clean face cloth soaked in pure warm water. If you wish, steam face for an additional 2-5 minutes. Splash skin with cool water to close the pores. Gently pad face dry and swab skin with a toner (we recommend our Balance toner) on a cotton r pad, followed by a nutritive skin serum. Your pores are now clear and will drink in nutrients and utilise them better and quicker.
"Thank you for introducing me to this Facial Steam. What a difference it has made to my skin. It looks clear, clean and healthy!"
- Aimee Loubscher Stellenbosch.
Please note:
All of our natural & organic products are lovingly made by hand. This means that occasionally you may notice slight colour variances when comparing to our product pictures.
Our PET recycled packaging may differ to what is displayed here, depending on our suppliers, but sizes will always remain constant.
Finally, we're improving on our formulas! Our website is up to date with the latest ingredient lists, but please note that our labels are a work in progress. If you're uncertain, please don't hesitate to get in contact.