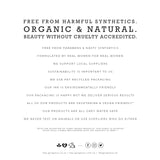 Hey Gorgeous
Beyond The Ordinary Blush Moisturiser
HYDRATING MOISTURISER TO REPLENISH RADIANCE & VITALITY
With a powerful, unique combination of cold-pressed oils and plant-derived actives, this luxurious moisturiser is instantly hydrating, soothing and gentle on your skin. It is the ultimate, iconic comfort cream for skin's that need a glow of healthy colour and vitality. 
WHY WE LOVE IT:
As we age, our features begin to sag and the skin on our face loses its firmness. Beyond this skin slackening, the skin also gets thinner and micro-circulation slows down. It loses it's natural colour and can look washed out. This lovely moisturiser adds a glow of healthy colour whilst drawing moisturise to the skin plumping up lines and wrinkles, leaving it fresh, radiant and healthy. 
RESULTS:
Markedly smoother and more supple skin
Dramatic reduction in the appearance of fine lines and wrinkles
Improved skin tone and texture
Increased hydration
Adds a healthy radiant glow to the skin
SUPERFOODS:
Pomegranate Beetroot Rosehip
INGREDIENTS:
*Beetroot infused herbal distillate *Jojoba Oil, *Grapeseed Oil, *Carrot Seed Oil, *Macadamia Nut Oil, *Rosehip Seed Oil, *Pumpkin Seed Oil *Calendula Oil, *Pomegranate Seed Oil* L-Ascorbic Acid *Helichrysum, *Rose Otto, *Ylang-Ylang
This product does not require refrigeration. To extend the potency and preserve the fresh ingredients store in a cool room away from direct sunlight.
 Size: 100g. 
APPLICATION TIPS:
Apply to fresh dry skin mornings and evenings. For accelerated results use with Beyond The Ordinary Serum.
Please note:
All of our natural & organic products are lovingly made by hand. This means that occasionally you may notice slight colour variances when comparing to our product pictures.
Our PET recycled packaging may differ to what is displayed here, depending on our suppliers, but sizes will always remain constant.
Finally, we're improving on our labels.  Our website is up to date with the latest ingredient lists, but please note that our labels are a work in progress. If you're uncertain, please don't hesitate to get in contact.