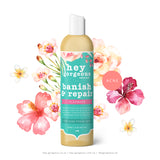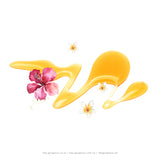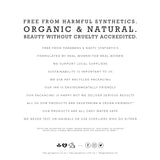 Hey Gorgeous
Banish & Repair Cleanser
PURIFYING DAILY CLEANSER FOR BLEMISH FREE SKIN
This daily cleanser gently purifies and cleanses the skin, naturally, whilst also reducing the appearance of breakouts and blemishes, and helping to prevent future breakouts. Keep your skin clean, and blemish and spot free.
WHY WE LOVE IT:
Help wash away acne-causing bacteria, excess oil and impurities without over-drying or irritating skin with. Our Banish and Repair Oil Cleanser is scientifically proven to help wash away acne causing bacteria, excess oil and impurities without over-drying or irritating skin. Salicylic acid derived naturally from willow bark extract, penetrates pores to help reduce acne and prevent future breakouts while evening primrose helps calm acne prone skin. 
RESULTS:
Naturally clear and healthy-looking skin.
Scientifically proven to wash away acne causing bacteria, excess oil and impurities
Naturally derived salicylic acid helps reduce acne and prevent breakouts
Evening primrose extract helps calm skin
Dermatologist tested, noncomedogenic and non-irritating
For best results, use this acne face wash as part of our Banish and Repair range
SUPERFOODS:
Jojoba, Carrot Seed Oil, Neem
INGREDIENTS:
*Cold pressed Jojoba, *Grapeseed Oil, *Neem, *Carrot Seed Oil, *Argan Oil * Willowbark *Vitamin E, *Frankincense & Neroli essential oils
NB: This cleanser contains Willowbark. It is not recommended to take Willowbark orally during pregnancy. As such a relatively small proportion is absorbed through the skin, however, it is unlikely to pose any risk to a developing baby. If you would prefer us to omit it from this product, please let us know and we'll custom blend with pleasure. 
Size: 250mls.
RECOMMENDED APPLICATION:
Dispense a few drops onto the fingertips and massage onto dry skin.
Sweep your finger over the eye area to remove make up and the lash line to remove mascara.
Wet your face cloth with as warm water as you can wring out.
Open the cloth and hold it over your skin until it cools (Gets a little steaming action going).
Wipe off thoroughly with the cloth.
Rinse with warm water, then splash with cool water. (Boosts micro circulation)
Pat dry and follow with your toner.
Please note:
All of our natural & organic products are lovingly made by hand. This means that occasionally you may notice slight colour variances when comparing to our product pictures.
Our PET recycled packaging may differ to what is displayed here, depending on our suppliers, but sizes will always remain constant.
Finally, we're improving on our labels! Our website is up to date with the latest ingredient lists, but please note that our labels are a work in progress. If you're uncertain, please don't hesitate to get in contact.