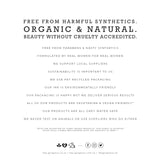 Hey Gorgeous
Banana Crush Shampoo
Suitable for all hair types / ages
WHY WE LOVE IT:
Not only is this shampoo made with organic ingredients, but you can also actually pronounce and understand the entire all-natural ingredient list. This gentle shampoo will remove excess oil and dirt without stripping your hair of the good oils and drying it out. The result is super shiny, soft, and manageable hair with a light fun banana aroma. 
INGREDIENTS:
Aloe Barbadensis (Organic Aloe) Leaf Juice*, Rosa Centifolia Flower Water (Rose Hydrosol), Sodium Cocoate (Saponified Coconut) Oil, Vegetable Glycerin, Extracts of Banana, Fucus Vesiculosus (Kelp), Plant Cellulose (Vegan), Tocopherol (Vitamin E), Panthenol, Extracts of Camellia Sinensis (Organic Green Tea) Leaf*, Urtica Dioica (Nettle), Rosmarinus Officinalis (Rosemary) Leaf, Calendula Officinalis (Calendula) Flower, Cocos Nucifera (Virgin Coconut) Oil, Salt (French Sea Salt), Extracts of Origanum Vulgare (Oregano) Leaf, Thymus Vulgaris (Thyme) Flower/Leaf, Lonicera Caprifolium (Honeysuckle) Flower and Banana Extract.
SIZE: 250ml.
HOW TO USE IT:
Apply to wet hair. Massage into scalp with fingertips, then rinse. Follow with our Coconut Hair Oil Treatment
Please note:
All of our natural & organic products are lovingly made by hand. This means that occasionally you may notice slight colour variances when comparing to our product pictures.
Our PET recycled packaging may differ to what is displayed here, depending on our suppliers, but sizes will always remain constant.
Finally, we're improving on our labels! Our website is up to date with the latest ingredient lists, but please note that our labels are a work in progress. If you're uncertain, please don't hesitate to get in contact.