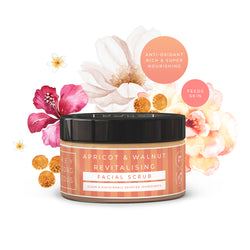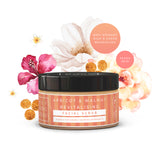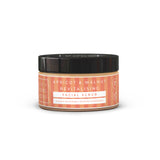 Hey Gorgeous
Apricot & Walnut Facial Scrub
REVITALISES DULL CONGESTED TIRED SKIN. Ideal for all skin types including sensitive skin.
Our Revitalising Apricot Facial Scrub is just what you need to refresh dull, congested & tired looking skin. Apricots are known to contain one of the highest levels of carotenoids (think vitamin A) and super-effective antioxidants. Apricot, Grapeseed and jojoba oils will nourish your skin leaving it smoother, fresher and revitalised.   
WHY WE LOVE IT:
* Cold pressed organic Apricot Kernel Oil Organic is rich in gamma linoleic acid, or GLA, which comes from essential fatty acid omega-6. The GLA content in apricot kernel oil helps skin to maintain moisture balance. GLA also plays a role in firming and toning your skin and contains vitamin A and E, which soothe the skin and slow signs of ageing. The nourishing properties of apricot kernel seed oil have an anti-inflammatory effect and soothe minor skin conditions such as eczema.
* Jojoba Oil with its deep rapid absorbing and antibacterial effects is an excellent treatment for numerous skin ailments such as dry, itchy flaky skin. It is wonderfully beneficial for those prone to break-outs as jojoba oil reduces the overproduction of sebum, relieves blockage of the pores and its antibacterial effects can help reduce infection.  Jojoba oil though emollient is not greasy. It heals, soothes and moisturizes the skin leaving, it soft and smooth.
* Coconut Flour is from the coconut 'meat' after extraction of coconut oil.  It is highly absorbent and also has fine exfoliating properties. It contains trace minerals, vitamin C and other anti-oxidants which fight off ageing free radicals and lift and brighten the skin.
* Ground Walnut Kernel has angular and multi-faceted minute particles which retain the extreme hardness of the walnut shell – yet because of their fine particle size – they will act as a soft abrasive to polish off old skin cells and impurities to reveal a layer of fresh fabulous skin.
* Calendula and Chamomile essential oils add a soothing calmness to the skin.
SUPERFOODS:
Apricot Kernal Oil, Organic Coconut Oil
INGREDIENTS:
*Sugar, *Organic Apricot and Jojoba Oils, *Grapeseed Oil * Coconut Flour *Ground Walnut and Apricot Kernels *Calendula and Chamomile essential oils.
SIZE:  200g.
RECOMMENDED APPLICATION:
Use the scoop provide and apply to wet skin. Polish lightly in small circular motions. Leave on for a minute or two. Rinse with warm water. Pat dry. Your skin will look fresh, glowing and ready to ready for your favourite Hey Gorgeous serum.
Please note:
All of our natural & organic products are lovingly made by hand. This means that occasionally you may notice slight colour variances when comparing to our product pictures.
Our PET recycled packaging may differ to what is displayed here, depending on our suppliers, but sizes will always remain constant.
Finally, we're improving on our formulas! Our website is up to date with the latest ingredient lists, but please note that our labels are a work in progress. If you're uncertain, please don't hesitate to get in contact.