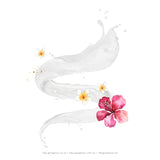 Hey Gorgeous
Aloe & Olive Shampoo
Revitalising pH balancer for thick healthy hair
A pure powerhouse that protects your luscious locks with a force field of nature' most fortifying compounds

This vegan, gluten-free, organic shampoo is a nourishing revitalising treat for tired over-processed tresses

Cleanses the scalp & hair down to cellular level & is the perfect choice for bringing all hair types into beautiful balance

Paraben free, Sulphate free, Cruelty-free

Vegetable origin, enriched with Aloe Vera
WHY WE LOVE IT:
Totally cleans your hair and scalp without harsh chemicals or drying out your hair. Formulated with aloe vera which does a great job of soothing irritated skin. That makes this shampoo great for those with inflamed, dry, or irritated scalps. This formula won't weigh down your hair while leaving it silky smooth and soft. 
Ingredients:
Aqua (Water) - > %50, Decyl Glucoside - %5-%10, Lauryl Betaine - %1-%5, Xantham Gum - %1-%5, Aloe Barbadensis (Aloe Vera) Leaf Juice Powder - %0.1-%0.5, Olive Oil - %1 -%0.5, Citric Acid - %0.1-%0.5, Potassium Sorbate - <%0.1, Essential Oils
More about these ingredients: 
Decyl Glucoside is a natural, non-ionic surfactant.  It is obtained from renewable raw materials, through a combination of plant-based fatty alcohols (coconut c8-16) and glucose (sugar/ starch).  Decyl Glucoside is a mild, and gentle, surfactant and does not dry the skin. 
Potassium salt of sorbic acid (natural fatty acid). Purity >98%.and is used because shampoos/conditioners are exposed to water and this provides an effective preservative action against moulds.
Size: 

250ml.
How To Use It:
Apply to wet hair and gently massage the hair and scalp. Rinse with lukewarm water.
Please note:
All of our natural & organic products are lovingly made by hand. This means that occasionally you may notice slight colour variances when comparing to our product pictures.
Our PET recycled packaging may differ to what is displayed here, depending on our suppliers, but sizes will always remain constant.
Finally, we're improving on our labels! Our website is up to date with the latest ingredient lists, but please note that our labels are a work in progress. If you're uncertain, please don't hesitate to get in contact.