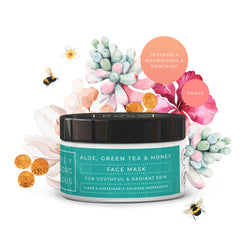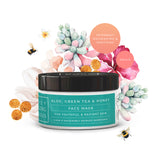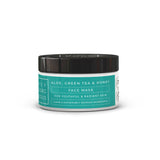 Hey Gorgeous
Aloe, Green Tea & Honey Face Mask
Our Gorgeous Aloe Green Tea and Honey mask will soften and repair your skin, providing intense nourishment and comfort for all skin types in need of extra care.
With its calming blend of ingredients, it's particularly suited to those with distressed complexions suffering from redness and dryness. Formulated with aloe vera, upon contact with the face this mask will instantly soothe and hydrate, moisturising your skin leaving it feeling fresh and revitalised. 
WHY YOU'LL LOVE IT:
Invigorating and repairing, our Aloe Green Tea and Honey Mask is ideal for use when your skin feels a little under the weather or a little dry. Suitable for even the most sensitive of skin, it will breathe new life into your complexion, revealing a naturally luminous look.
Perfect too for using on sun-damaged skin, if you've just been on holiday or if you have dark spots caused from UV rays, this active ingredients within this mask will aid in repairing damage whilst helping to diffuse the appearance of dark spots and redness.
SUPERFOODS:
Aloe. Green Tea. Manuka Honey
INGREDIENTS:
*Coconut Oil (Cocos Nucifera) , *Shea Butter(Butyrospermum Parkii), *Aloe Vera Gel (Aloe Barbadensis) *Manuka Honey (Leptospermum Scoparium Mel) *Green Tea ( Glycerin, Aqua, Camellia Sinensis Leaf) *Calendula Gel (Calendula Officinalis) *Chamomile Essential Oil (Chamomilla Recutita).
SIZE: 100g
RECOMMENDED APPLICATION:
Apply a generous layer to dry, cleansed skin and leave on for 10 - 15 minutes, rinsing off with warm water. It is recommended that you use it twice a week.
Top Tip: Can also be left on overnight for a deep, intensive treatment. 
 Our products are meticulously made by hand in small batches to ensure freshness. This means that occasionally you may notice slight colour variances when comparing to our product pictures.
Our PET recycled packaging may differ to what is displayed here, depending on our suppliers, but sizes will always remain constant.