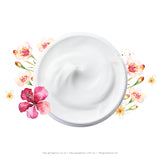 Hey Gorgeous
African Fig Hand Mask
Why Use Me?
Exposed to the elements, your hands probably give away your age more than any other body part, and it's no surprise that sun damage is the biggest culprit. As a result, you should apply sunscreen to the backs of your hands. It's important to keep your hands well moisturised with nourishing cream like our fabulous African Fig Hand Mask particularly overnight, to nourish, hydrate and plump up thinning skin.
The sooner you establish a daily regimen the better. Even though hands usually start looking older in one's 20s, most people don't recognise the signs of aging until their 30s or 40s, and most people won't start changing their routines until they notice the appearance of serious ageing signs.
The added benefit is that with all the frequent hand washing and sanitizing we are all doing, this hand mask is the perfect way to replace natural oils that get stripped away. 


Why It Works:
Shea Butter is an all natural Vitamin A cream. It is a superb moisturiser and has exceptional healing properties for the skin. It also contains Vitamin E which benefits the skin with its anti-ageing properties and exerts a positive effect on increasing the microcirculation. Now if this sounds a little boring, the bottom line is that it will slow down the ageing process and keep your hands looking and feeling fabulous! 

How To Use It:
For best results, use on clean, exfoliated skin. Rub a generous amount over your hands and pop them into a pair of plastic gloves. Cover hands with a warm towel for maximum benefit.