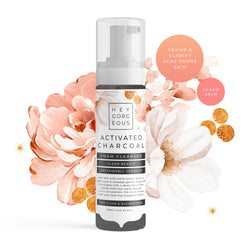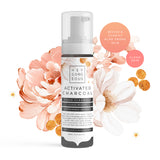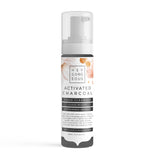 Hey Gorgeous
Activated Charcoal Foam Cleanser
Revive and clarify decongested acne prone skin. 
Our Activated Charcoal Foaming Cleanser provides a deep, pore-clearing clean without over-drying, stripping skin, or causing irritation. Its soft sulphate free foaming action draws out impurities whilst gently exfoliating old skin cells to instantly lift and brighten the skin. 
Why you'll love it: 
Want skin with refined, clear pores and clarified, smooth texture?  Our Activated Charcoal Foaming Face Cleanser a is an advanced skin-brightening and purifying foaming face wash with activated charcoal, tea tree oil and Aloe. 

It is an anti-pollution, deep cleansing face wash that supports acne-prone skin and revives tired, aging skin.
It is a soap-free, non-drying cleanser that removes dirt without disturbing your skin's natural moisture balance. So, you won't get that dry tight feeling after using this face wash.

It gently but effectively removes not just makeup but also deep-seated dirt and impurities from the skin leaving it feeling fresh and soft.
RESULTS: 

Powerful deep cleanse to eliminate breakouts and blackheads
Skin Purifying Technology to clear pores and de-congest skin without over-drying.
Natural salicylic acid to treat and prevent spots
Activated Charcoal to remove excess oil.

 
SUPERFOODS:
Activated charcoal. Aloe. Tea-tree. 
INGREDIENTS:
Antioxidant Micro-Clustered Ionized Water. Plant derived Glycerin. Cocamidopropyl betaine. Phenoxyethanol, Melaleuca Alternafolia, Cocoyl Glutamate, Citric Acid, Aloe Vera, Charcoal Powder, Sodium Benzoate, Potassium Sorbate.
(98% Natural origin ingredients).

This product does not require refrigeration. To extend the potency and preserve the fresh ingredients store in a cool room away from direct sunlight.
RECOMMENDED USAGE:
Wet skin with warm water. Dispense the required amount of foam to the skin and massage gently. Rinse off and pat dry. 
For best results follow with our Rosewater Toner. 
SIZE: 200ml
Please note:
Our products are meticulously made by hand. This means that occasionally you may notice slight colour variances when comparing to our product pictures.
Our PET recycled packaging may differ to what is displayed here, depending on our suppliers, but sizes will always remain constant.