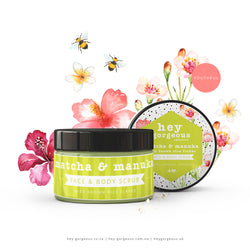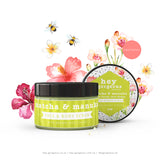 Hey Gorgeous
Matcha & Manuka Face & Body Scrub With Brown Rice Flakes
Why Use Me?
This gorgeous scrub suitable for both face and body offers an abundance benefits to your skin.
Matcha green tea:
1. Anti-oxidant/angi-aging – due to it's extremely high level of anti-oxidants. (the highest ORAC rating food)
2. Anti-inflammatory – due to the caffeine and catechins
3. Anti-microbial – eliminates blemishes and acne
4. Anti-cancer/fights sun damage – powerful cancer fighting constituents (EGCG)
5. Mild exfoliation and detoxifying – particles sizes and high chlorophyll content
Active Manuka Honey is a miracle beauty and skincare ingredient.
A natural antimicrobial, the power of honey to stimulate wound healing and promote healthy skin is well documented and scientifically proven.
It works as a humectant, drawing moisture into the skin, and the unique properties of Active Manuka Honey make it one of the most biologically active and beneficial honeys for the skin. It's perfect to enhance your skin's renewal process. 
Brown Rice Powder and Flakes.
is also good to the skin, in fact it aids treat pigmentation, wrinkles as well as blemishes and leaves the skin with a smooth porcelain finish. Flakes soften in Matcha tea gently polish off old skin cells to instantly lift and brighten the skin. 
Made With:
Brown Rice Powder, Coconut Flour, Castor Sugar, Manuka Honey, Matcha Green Tea Hydrosol, Jojoba, Grapeseed, Sweet Almond Oil.
Size: 200g
How To Use It:
Wet skin with warm water. Scoop out a spoonful of the scrub into the palm of one hand. Rub palms together and then gently, using palms and fingertips, massage the skin. Leave on for a few minutes (makes a fabulous mask). Rinse off thoroughly with warm water. Splash with cool water. Pat dry and follow with your favourite Hey Gorgeous Serum. 
Body: Apply to a sponge or facecloth. Wet skin and use the sponge or facecloth to gently polish your skin. Rinse off. Towel dry and follow with your favourite Hey Gorgeous Body mousse or butter. Can be used in the bath or shower. 
Please note:
All of our natural & organic products are lovingly made by hand. This means that occasionally you may notice slight colour variances when comparing to our product pictures.
Our PET recycled packaging may differ to what is displayed here, depending on our suppliers, but sizes will always remain constant.
Finally, we're improving our labels! Our website is up to date with the latest ingredient lists, but please note that our labels are a work in progress. If you're uncertain, please don't hesitate to get in contact.