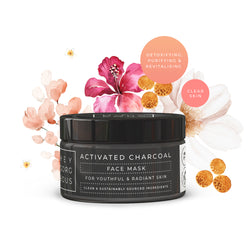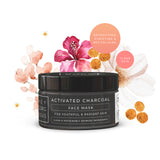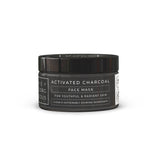 Hey Gorgeous
Activated Charcoal Face Mask
DETOXIFYING - PURIFYING. Boosts and refreshes dull, tired, congested skin. 
When environmental pollutants, dirt and debris get under your skin, its waste-filtering system gets jammed, pores get clogged, skin looks dull & cloudy. This fabulous complexion clean-up mask gets to the bottom of skins overcast condition and clears the way for it to act its best. Activated Charcoal acts as a magnet to draw out pore-cloggers, White China clay absorbs environmental pollutants, purifies the skin, removes black and whiteheads and softens the skin so your skin can "breathe"
WHY YOU'LL LOVE IT:
Activated charcoal effectively absorbs toxins, bacteria and pollutants from the skin, leaving it well exfoliated and clarified. Formulated with skin loving botanicals and plant extracts to promote optimal anti-ageing benefits, this lovely mask has it all. 
Suitable for all skin conditions excluding sensitive skins.
SUPERFOODS:
Brown Rice. Shea Butter. Organic Coconut Powder
INGREDIENTS: 
*Shea Butter (Butyrospermum Parkii) *Jojoba (Simmondsia Chinensis), *Aloe Vera (Aloe Barbadensis) *Brown Rice Powder (Oryza Sativa) *Organic Coconut Powder (Cocos Nucifera) *Kaolin Clay (Kaolin)  *Activated Charcoal (Carbo Activatus) *Lemongrass (Cymbopogon Flexuosus), Clarysage essential oils (Salvia Sclarea). 
RECOMMENDED APPLICATION:
Apply an even layer onto clean, dry skin. Avoid the delicate eye and lip area. Leave on the skin for 6-10 minutes. Remove thoroughly with a damp cloth. Remove excess product with lukewarm water. For best results follow with our Phyto Peptide serum and moisturiser. 
Please note: This mask comes in a 'medium version but we can can customise to a mild (for sensitive skin)  or strong formula on request. Please let us know your preference when you order. 
SIZE: 100g
Our website is up to date with the latest ingredient lists, but please note that our labels are a work in progress. If you're uncertain, please don't hesitate to get in contact.
 Our products are meticulously made by hand. This means that occasionally you may notice slight colour variances when comparing to our product pictures.
Our PET recycled packaging may differ to what is displayed here, depending on our suppliers, but sizes will always remain constant.