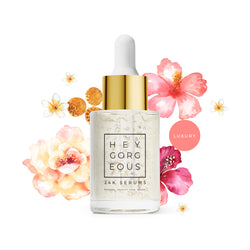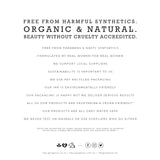 Why Use Me?
Simply radiant. This gold-infused serum encapsulates potent age-defying technology to revitalise and perfect skin. See smoother, more even skin texture. A single drop give skin a radiant glow, as it lit from within.

Containing advanced peptides and an infusion of gold particles, combined with an age-defying technology, works to help to give skin a radiant look. It is further enhanced with our plant derived hyaluronic and vitamin c infused complex which targets components of the extracellular matrix for a rejuvenated appearance in the skin.
Active 24K gold works deeply to revitalize and lift the delicate facial skin, combat the signs of aging, eliminate toxins, all while improving blood circulation for brighter and more beautiful skin. The active ingredients found in these products work together to even your skin while cooling, de-puffing and tightening the sensitive area to make you feel and look refreshed and revitalised on contact.

With real Nano Gold, which is useful for detoxing and hydrating your skin while increasing blood circulation and improving the skin's cellular metabolism. It also effectively reduces the severity of wrinkles, fine lines, crow's feet and signs of ageing. 
Made With:
Micro-clustered water, sh-Polypeptide-69 (plant derived collagen)  Collagen. Olive Squalane. Nano Gold. Vitanol (Vitamin A).Vitis Vinifera (Grape) Seed Extract. Prunus Domestica Seed Extract. Avena Sativa (Oat). Peptide. Sodium Hyaluronate (plant derived Hyaluronic Acid).  Radish Root Filtrate.
Size: 30mls
How To Use It:
For best results use mornings and evenings.
Apply 3-4 drops to the skin and smooth over face and neck. Allow to absorb before applying your moisturiser. 
Please note:
Please allow 7 days from ordering for this product. 
All of our natural & organic products are lovingly made by hand. This means that occasionally you may notice slight colour variances when comparing to our product pictures.
Our PET recycled packaging may differ to what is displayed here, depending on our suppliers, but sizes will always remain constant.
Finally, we're improving on our labels. Our website is up to date with the latest ingredient lists, but please note that our labels are a work in progress. If you're uncertain, please don't hesitate to get in contact.