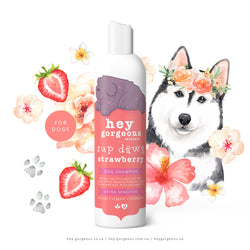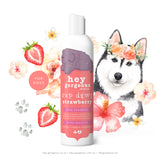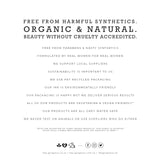 Hey Gorgeous
Sup Dawg Strawberry Dog & Pup Shampoo
Why Use Me?
We don't believe that our furry friends should be exposed to chemicals in their products any more than we should be in ours. This our gorgeous Sup Dawg Shampoo is excellent for all skin conditions, effective in repelling ticks and fleas and leaves coats glossy and healthy.


Made With:
Distilled water, Castile Soap, Coconut Oil, Peppermint, Lavender, Geranium, Sweet Orange & Tea-Tree.
Size: 500ml.
How To Use It:
Wet your dog thoroughly with warm water before applying shampoo. Massage. Avoid contact with eyes. Rinse and towel dry/blow dry. 
Please note:
All of our natural & organic products are lovingly made by hand. This means that occasionally you may notice slight colour variances when comparing to our product pictures.
Our PET recycled packaging may differ to what is displayed here, depending on our suppliers, but sizes will always remain constant.
Finally, we're improving on our formulas! Our website is up to date with the latest ingredient lists, but please note that our labels are a work in progress. If you're uncertain, please don't hesitate to get in contact.