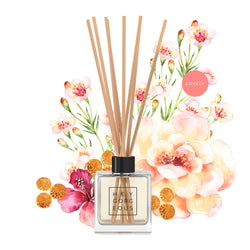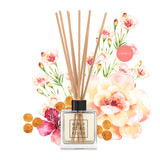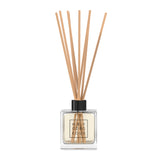 Hey Gorgeous
Luxury Reed Diffuser
Why Use Me?
Whether they're being used to unwind for improved sleep quality, to uplift the mood, or to create the precise ambience, reed diffusers have the potential to enhance the mind, body, and atmosphere . Reed diffusers are one of the most popular home fragrance products these days that deliver constant aroma to any room without using electricity, heat or flame. If you are looking for a natural, decorative air freshener that requires very little maintenance and can be left unattended, then you will certainly love having a reed diffuser (or more) in your home.
Aromatherapy is the practice of using essential oils for therapeutic benefit. Aromatherapy has been used for centuries. When inhaled, the scent molecules in essential oils travel from the olfactory nerves directly to the brain and especially impact the amygdala, the emotional centre of the brain.
Available in 4 varieties: (Please select your choice from the drop down box). 
1. Lemongrass:
When you want to overpower feelings of nervousness, or eliminate mental fatigue. Diffusing Lemongrass essential oil can also help promote a positive outlook and heighten your awareness.
2 Peony: 

Peonies, soft and delicate with their budded collections of shaded pink petals, have a tantalizingly sweet essence to their beauty. Blooming towards the end of spring when nature is beginning to come alive yet again, peonies are both alluring in their intoxicating scent of familiar sweetness and in their eye-catching imagery. For an added benefit, peony supports healthy brain functions, improved memory and cognition, and overall mood. One of the easiest and quickest ways to benefit from these properties is simply by smelling its beautiful scent. 
3. Madagascan Vanilla:
This gorgeous blend creates positive associations and evokes feelings of warmth and happiness.
4.  Warm Spice 
Intense, heady and exotic this warm, sensual blend creates a feeling of luxury, comfort and warmth. 
Size:: 
Large. Includes 8 diffuser reeds. Refills are available. 
How To Use It:
STEP ONE: 
After unscrewing the lid, remove the inner travel plug.
STEP TWO:
Screw the cap to the bottle.
STEP THREE:
Insert the reeds carefully. 
STEP FOUR:
Flip the reeds to help the oil climb.
STEP FIVE:
Let your reed diffuser naturally permeate your space. Whenever the scent fades, flip the reeds around.